Product Description
Item: Conductive Quick Connector 6.30 (1/4) - ID3 - 0° SAE
Model: A0
Application: Conductive system
Size: Ø6.30mm-0°
Hose fitted : PA 3.0x5.0mm or 3.35x5.35mm
Material: PA66 or PA12+30%GF
Shinyfly quick connector is composed of body, in O-ring, spacer ring, out O-ring, securing ring and locking spring. When inserting another pipe adapter(male end piece) into the connector, since the locking spring has certain elasticity, the two connectors can be connected together with the buckle fastener, and then pull back to ensure the installation in place. In this way, the quick connector will work. During maintenance and disassembly, first push in male end piece, then press locking spring end till expansion from the middle, the connector can be easily pulled out. Lubricated with SAE 30 heavy oil before re-connecting.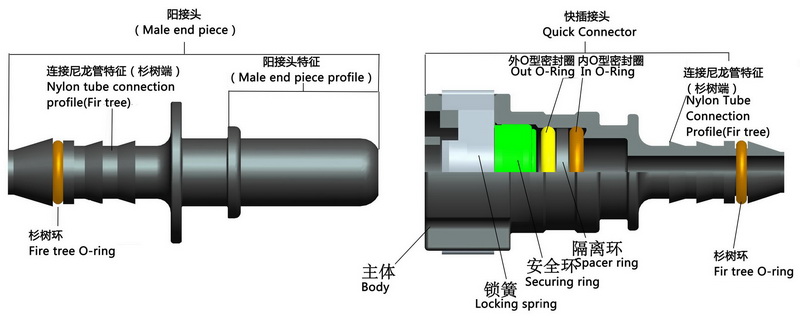 Quick Connector Working Environment
1. Gasoline and diesel fuel delivery systems, ethanol and methanol delivery systems or their vapor venting or evaporating emission control systems.
2. Operating pressure: 500kPa, 5bar,(72psig)
3. Operating vacuum: -50kPa, -0.55bar,(-7.2psig)
4. Operating temperatures: -40℃ to 120℃ in continuous, short time 150℃
The Advantage of Shinyfly Quick Connector
1. Simple
• One assembly operation
Only one action to connect and secure.
• Automatic connection
The locker automatically locks when the end piece is properly seated.
• Easy to assemble and dis-assemble
With one hand in tight space.
2. SMART
• The locker's position gives an obvious confirmation of the connected state on the assembly line.
3. SECURE
• No connection until end piece is properly seated.
• No disconnection unless voluntary action.
Other Technical Data
Compliant with SAE standards
Large range of diameters
Different colors for locking spring
Various angles, geometries